Creations
Grichting floors
Our services
The choice of excellence
At Sols Grichting, we focus on the excellence of our products and services
Arts and crafts…
Craft activity, through the exercise of manual labor, consists of an activity of production, transformation, repair.
This activity reflects a know how. This know-how implies a precision of the gesture, the professional character of this one. This know-how is attested by a professional qualification, a guarantee of seriousness and the translation of a certain readability to customers.
But the artisanal activity is not limited exclusively to a professional and precise know-how. The knowledge implemented in the craft activity is more complex than the mere know-how.
Craft activity is also creative. Creation is expressed in the worked, created object. Behind the manual work, there is a intellectual work imaginative thinking which will allow the craftsman to design, to develop projects.
Materials…
wood …
Natural, renewable, biodegradable: wood is theeco-material par excellence. Used by man since the dawn of time, its use has influenced the evolution of civilizations. His many qualities make it essential. Timeless material, wood is at the origin of many traditional trades and is today for the wood industry source of innovation.
… To the floor!
The lifetime of a wooden floor is on average 50 years and can reach 100 years. Parquet is one of the only floor coverings that can be easily refurbished.
Natural and Authentic, the floor is healthy, it does not retain dust and does not produce it; it thus avoids many risks of allergies.
Easy to maintain and resistant to wear, it has insulating and acoustic properties.
of a aestheticism unequaled, wood is inherently noble and creates a warm environment.
Logistics…
Defines as "all the activities that ensure the establishment at a lower cost, of a determined quantity of product, at the place and at the time where a demand exists",  logistics can be presented as a combination of actions aimed at planning, optimizing and managing supplies, transport, storage and the circulation of physical flows on a construction site.
It is important that all stakeholders design an efficient logistics system covering the preparation, execution and commissioning of the work. (World Bank, 2015)
It is aware of all this that the company Grichting floors knew how to structure itself in favor of a optimal efficiency, at the service of its customers !
Sinister Valais – Water damage
By Sols Grichting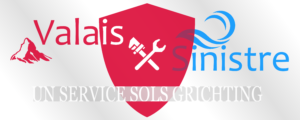 Need information or an estimate following a claim?
Visit our partner site Valais Sinister and complete the contact form.
For any emergency, contact the +41 (0)27 455 95 05 without waiting.
The Valais Sinistre team is at your disposal.
A service offered by Sols Grichting.
Coatings
Parquet, carpet, lino, pvc or vinyl
Grichitng soils
for more than 15 years at your service
Everything you need under one roof